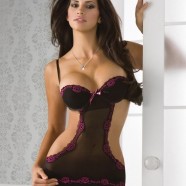 Jun

01
Tags
Related Posts
Share This
Hope Dworaczyk
Hope Dworaczyk is one of the most beautiful and captivating brunettes I have seen in quite a long time – as soon as I saw her picture, I instantly thought "damn, she's HOT!". I ended up learning that Hope Dworaczyk is from Texas and is of Mexican and Polish descent.
She has appeared as a contestant in the popular TV show Celebrity Apprentice, she's toured the world representing brands such as Versace and Balenciaga. She was also the 2010 Playmate of the Year! I swear, I must have been comatose to have not recognized her when I saw her lingerie photo earlier.
One cool thing that not many people know about Hope is that she's been pushed and urged to change her last name by her managers and modeling agencies, but she refused because she loves the originality and naturality of her last name and didn't want to become superficial and fake with an assumed last name. Speaking of natural, her big boobs are natural as well, and she measures in at 34CC – 23 – 35, yet another sexy model that could rock a guy's world!