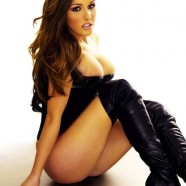 Nov

30
Tags
Related Posts
Share This
Lucy Pinder
If you ask any man in Britain what's hot about Lucy Pinder, most likely their answer will be an instantaneous 32G. Natural 32G breasts at that! She was discovered on a popular beach in southern England by a photographer and her career as a UK Glamour Girl was immediately launched. She regularly appears in men's magazines in the UK and she has her own girlie advice column in one of those magazines as well. She periodically makes reality tv show appearances or works as a presenter. Lucy was well known for stirring things up on the season she appeared in UK "Celebrity Big Brother" with immediate statements of her distaste for overweight people and how she aligns with the Tory political party.
Recently, she began a B movie acting career which commenced with an appearance in "Strippers vs. Werewolves." Sounds like a true classic! Pinder has pursued being an artist (line art, drawings and paintings) and auctions or sells her artwork to benefit charities. Lucy doesn't just want to be known for her huge breasts, she is studying toward a graduate degree at Oxford University. This is after she graduated at age 20 magna cum laude from Cambridge with a degree in Philosophy. She earned the notorious title of most downloaded woman on the internet back in 2007 which was the same year she first began posing topless. More pics of Lucy Pinder on her Instagram: LucyPinder.daily
Check out Lucy in a sexy, skimpy black latex bikini then she goes topless for Nuts magazine!