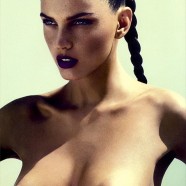 Dec

02
Tags
Related Posts
Share This
Jeisa Chiminazzo
Seriously, do the hottest brunette chicks in the world all come from Brazil? Model Jeisa Chiminazzo has got to be one of the hottest brunettes we've featured on The Daily Brunette. Ironically, while she was born and raised in Brazil, her parentage is an Italian father and a German mother. However, we'll forgive her hotness for not truly being a "Brazilian" Brazilian!
This brunette babe has modeled for the likes of La Perla, Calvin Klein, GAP, Levi, DKNY, Emporio Armani, Hermes, Chanel, Tiffany, Dolce & Gabbana, Tommy Hilfiger and more. She has appeared as a Sports Illustrated swimsuit model as well as a Victoria's Secret model. She has graced many Vogue international covers and is a successful runway model in addition to adorning print campaigns. Sorry guys, she has a ring on her finger. Jeisa got married last year to an uber rich British businessman. But, she continues to model selectively and is choosy about the shoots or runway work she books. She was quoted in the press as saying that while she loves modeling, she found the grind of traveling and the long hours tiring. She is known for her long legs, perfect physique and evocative green eyes. Unlike other supermodels, Jeisa is a little busty, with tantalizing 36 C cup tits. We's surprised Jeisa isn't more well-known outside of the fashion world.
Jeisa's Instagram:
@JeisaChiminazzo
Check out Jeisa in a video from her Sports Illustrated swimsuit shoot!