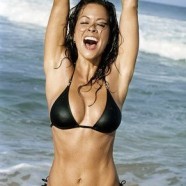 Jan

10
Tags
Related Posts
Share This
Camilla Belle
Camilla Belle is an American actress, born to a Brazilian mother and American father. She grew up bilingual, speaking both Portuguese and English. Her mother is a fashion designer and put Camilla into print ads as a baby model. Her first few roles were courtesy of Disney, but she used those as stepping stones. She gained greater attention after appearing in the film, "10,000 BC", a remake of the film which had originally launched Raquel Welch into sexy superstardom. She followed up "10,000 BC" with "Push", a sci-fi thriller that showed off her acting skills. Up to this date, Camilla has only done film acting whether tv movies or feature films. She has largely eschewed pursuing television guest star roles in favor of film roles. She also did her own stunt work in When a Stranger Calls to lend more realism to her role. She frequently models in high fashion photo shoots and many fashionistas envy her perfect Liz Taylor brows.
Now, we aren't looking at Camilla Belle's brows whatsoever, but you can't help laugh at what chicks notice about other chicks. Camilla has been known to date A-lister dudes including musician Joe Jonas, former QB phenom Tim Tebow, singer Enrique Iglesias and actors Chad Michael Murray and Topher Grace. Camilla was supposedly the real-life inspiration for Taylor Swift's song "Better than Revenge", where Taylor sings about a brunette heartbreaker who steals her boyfriend.
Check out Camilla playing a stripper in a sexy pole dancing scene from the movie "Sundown".