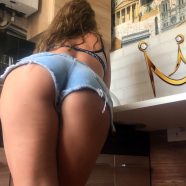 Jun

26
Tags
Related Posts
Share This
Social Media Celebrities
Unlike stars in other areas of entertainment such as movies, tv, sports – social media stars create a powerful and direct connection to their audiences. These internet idols create content and messages expressly for their fans and even for specific followers. Followers are continually hungry to consume fresh tweets, posts, videos, photos and news about their favorite models. SocialMediaCelebs.com is a brand new website which will allow you to follow sexy female social media icons and find exclusive content which might not be available on their Instagram, Youtube channel, Facebook page and Twitter feed.
You can even sign up as a VIP member to see adults only videos and pics. No, it's not porn! The site wants to make sure it doesn't display anything too risque, so the VIP content is exclusive. When you join as a VIP you will have access to all adult material. Sign up for theSocialMediaCeleb.com newsletter which will be emailed to subscribers monthly. Bookmark the site now and check back for frequent updates.
POV clips are trending online and Social Media Celebs features POV videos produced by sizzling Instafamous celebs and influencers. Yes, hot and exclusive! Social Media Celebrities asked these amateur babes to send clips and pics for the website to introduce new fans to their steaminess. There are thousands of beautiful babes on Instagram and other social platforms. As you will see, these scintillating stars recognize the value of promotion on Social Media Celebs where an audience will be looking for their hottest content now.